Shocking…Flipkart gave away a toy car for 79,000..?
Shocking…! flipkart gave a toy car for 79 thousand..!?

A person who placed an order for a drone camera by paying Rs 79,000 via flipkart near kanchipuram was shocked to find that a car worth Rs 100 was sent in the package. In online shopping, Indian e-commerce industry giants mainly have two most used platforms in India. Amazon and flipkart are taken into account. Both are now offering big discounts. The great Indian festival on amazon is underway. Now the Big Billion Days flipkart sale is on. It offers discounts on many products.
The sales of Flipkart and amazon offers started on September 23 from 12 p.m. It offers huge discounts on a wide range of products ranging from smartphones and clothing to home appliances and gadgets. As usual, a day early the sale for Prime members started. This means that from the 22nd customers can buy at reduced prices. In this way, Moideen, who belongs to Sriperumbudur Sivanthangal area of ​​Kanchipuram district, also shopped online. His friend Suresh, an AC mechanic, needed a drone camera and searched online. Flipcard had a drone camera for Rs 79,064.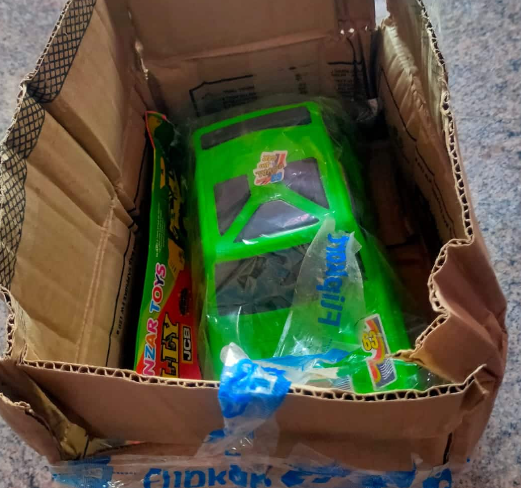 For this he paid by credit card and placed the order on the 20th. The drone camera package was delivered today. Suspicious as the package was very flat, Moideen and Suresh separated the package with a video recording. Then there was a cheap car worth 100 rupees in the package. Shocked by this, both called the delivery man.
But he didn't pick up the phone. Later, they filed a complaint with Flipkart. They said they were investigating. Suresh said he took out a loan to buy a drone camera for industry development. Now that disappointment has caused a lot of emotional distress. Moreover, he called for immediate action to be taken in this regard. Currently, orders and deliveries are said to have increased due to huge discount sales on Flipkart. Therefore, it is said that there may have been some errors in the package.