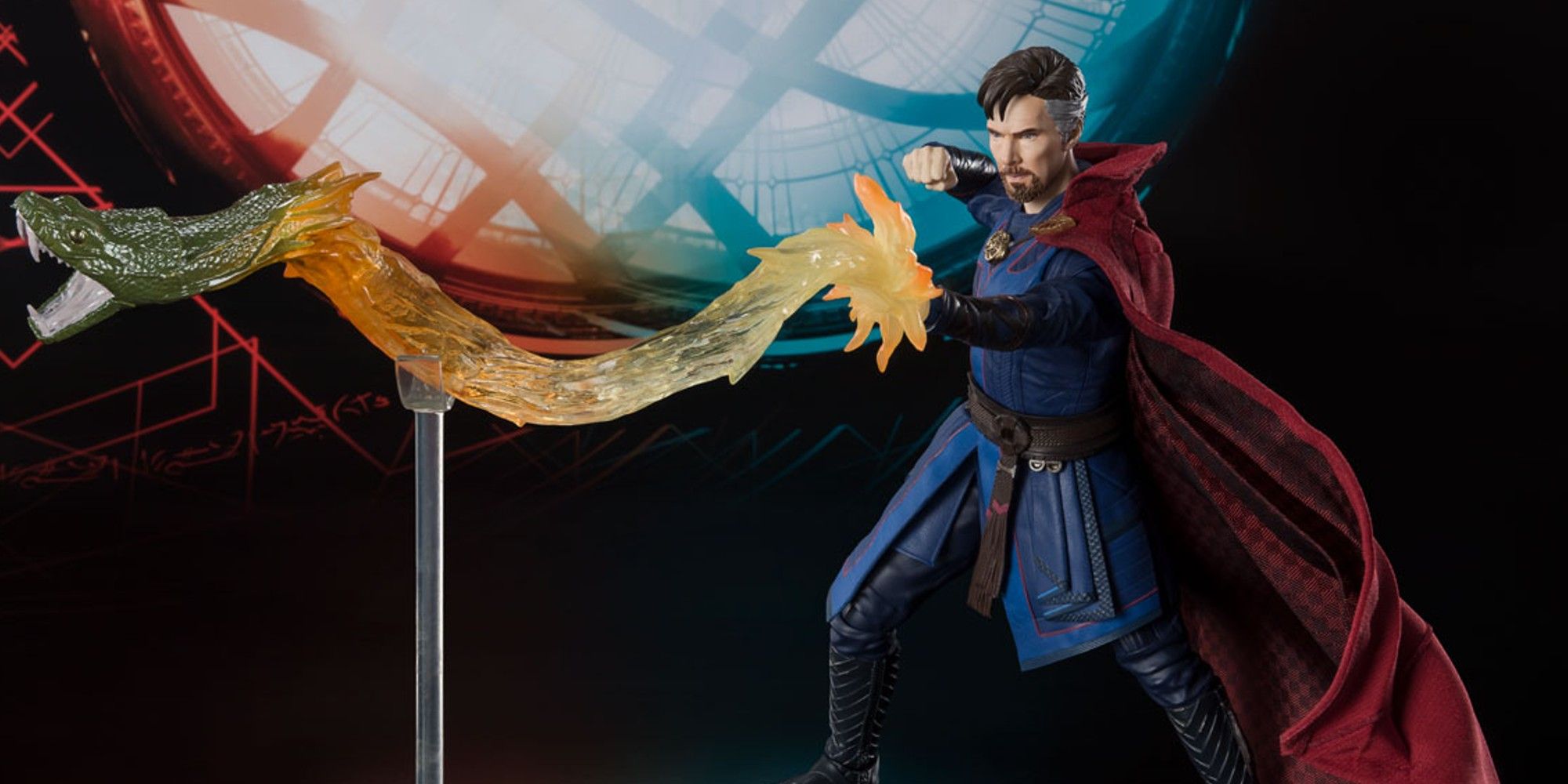 Doctor Strange 2 Toy Gives A More Detailed Look At The Dragon Spell From The Trailer
Bandai Tamashii Nations has released images of their new SH Figuarts Doctor Strange figure inspired by Doctor Strange in the Multiverse of Madness.
Bandai Tamashii Nations has released images of their new SH Figuart, a Doctor Strange figurine inspired by Doctor Strange in the Multiverse of Madness. The figure captures the likeness of Benedict Cumberbatch, who will reprise his role in Marvel's upcoming sequel. Cumberbatch stars alongside Elizabeth Olsen, Xochitl Gomez, Benedict Wong, Chiwetel Ejiofor and Rachel McAdams.
Although he entered the MCU as a skeptic who scoffed at notions of magic and sorcery, Stephen Strange (Cumberbatch) has proven himself to be potentially one of the most powerful figures in the cinematic universe. Throughout his time on screen he has mastered transportation via sling ring portals, astral projection, duplicating, altering and looping the stream of time and linking between the many realities to across the vast multiverse. Under the guidance of Sam Raimi, Strange could see his power intensify further in Multiverse of Madnesswith Doctor Strange 2The first trailer teases new variants of Strange that could explore his potential. Now, Bandai Tamashii Nations hopes to bring some of Master of the Mystic Arts' abilities to fans at home.
Related: Doctor Strange 2: Every Rumored Multiverse Character Cameo
Shared by Doctor Strange 2 Updates On Twitter, Bandai Tamashii Nations revealed their new Marvel hero figure, which captures his new classic comic-inspired outfit in the upcoming movie. The figure is highly detailed and articulated, with a detailed portrait that captures Cumberbatch's likeness and 15 interchangeable hands. The figure also features various spell-effect parts, such as Strange's familiar circular magic shields, as well as the dragon spell he cast in the film's first trailer. Even the minifigure's levitation cloak is a flexible piece with a bendable wire that allows it to be posed independently. The figure is slated for a May 2022 release at a price of 7,920 yen, which converts to around $69 USD. Check out the Doctor Strange Updates tweet below.
Click here to see the original tweet.
Bandai Tamashii Nations follows the Doctor Strange line previously revealed by Hasbro, which gave fans their first look at Stephen's new outfit, as well as his fellow wizards. The wave of Marvel Legends figures includes Strange himself, unidentified sword-wielding Wong in a new purple and yellow outfit, a crossbow-wielding Baron Mordo (Ejiofor) with his long hair, and America Chavez (Gomez). The build-a-figure for the wave is the green minotaur wizard Rintrah, who has since been featured on other items. Hasbro has also teased alternate looks for Strange himself, as alongside the main wave will be a deluxe figure of the hero titled Defender Strange. Inspired by a more modern costume, Defender Strange features a red and black costume, with Strange tying his hair in a ponytail. The figure also features a portal inspired by his sling ring abilities.
While other merchandise only hints at multiversal elements, SH Figuarts' latest offering offers a better look at Strange's abilities. While What if..? showed a fallen Doctor Strange absorbing creatures so he could manifest their abilities, the effects seen in the Doctor Strange in the Multiverse of Madness The trailer appears to be an energetic construct, indicating that main MCU Doctor Strange didn't spin like his animated counterpart. While his role in the film has only been teased, the spell effect makes the SH Figuarts action figure a standout addition to any fan's collection.
Next: Why Doctor Strange Goes To The Scarlet Witch In The Multiverse Of Madness
Source: @DrStrangeUpdated
Doctor Strange in the Multiverse of Madness (2022)Release date: May 06, 2022
Thor: Love and Thunder (2022)Release Date: Jul 08, 2022
Black Panther: Wakanda Forever/Black Panther 2 (2022)Release date: November 11, 2022
Marvels/Captain Marvel 2 (2023)Release date: February 17, 2023
Guardians of the Galaxy Vol. 3 (2023)Release date: May 05, 2023
Ant-Man and the Wasp: Quantumania (2023)Release date: July 28, 2023
Black Adam Concept Art Reveals a Very Different Costume Design for Doctor Fate
About the Author