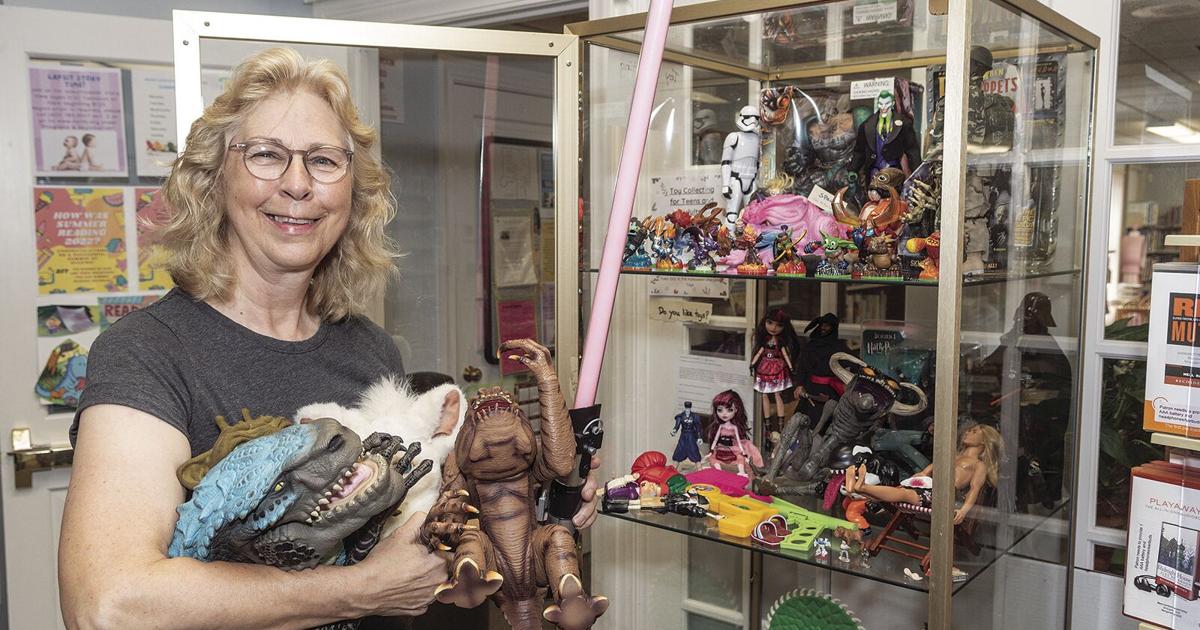 A local toy collector wants to share her joy with you | Arts & Living
NARRAGANSETT, RI – This is the story of a local collector who has over 1,000 toys in 18 bins in a very long closet in her home. It is also a story of passion.
Corinne Adams, 68, clings to both the whimsy, interest and intrigue that began years ago and feeds her imagination as she ages. It's also a story she now plans to share with others.
"I have been collecting toys since I was a child. I kept some of the toys from my childhood and when I had my son it renewed my interest," Adams said.
"It's strictly a hobby. I've never bought a toy as an investment and I'm always surprised if one of my toys is worth anything," she said recently, calling herself a "collector. /accumulator".
"Even if it's worth something, I'm not going to give it up!" The rule is to always get something you like or like and if I pass it on, I just hope the person who gets it likes it too," Adams said.
She applies this philosophy to a series of hour-long classes at the Narragansett Public Library, where she wants to pass on her knowledge of toys and show off some of her collection.
Discarded, forgotten and broken, toys come and go – often quickly – through a child's life.
"I always loved every toy I had as a kid, enjoyed it and took great care of it. I still have my 1964 Barbie and a Toni doll," Adams said. , noting, "My parents never gave anything away. I think I just like showing them to my audience and getting a positive response. It's fun."
The sessions are geared towards teens and adults and will offer fun facts and a background story about these toys. Sessions take place from 7 p.m. to 8 p.m. on five consecutive Tuesdays from September 6 to October 4 at the library.
Each class will focus on one topic, but there will be a bit of everything each week. Topics include Fantasy, Space, Star Wars and Sci-Fi, Toys of the 1980s and 1990s, Fashion Dolls and GI Joes, and finally Halloween and Odd Toys.
There will also be toys that are discontinued, rare and even withdrawn from the market for various reasons, she said.
Marilyn Sherman, director of adult services at the library, said, "We love it when people share their interests at the library and explore new ones.
"A big part of those presentations are the figurines and accessories that people make or buy. They are a very concrete way for them (the collectors) to show their enthusiasm and express their creativity," she explained.
Adams agreed.
"I know I'm not the only one with this passion, so I decided to pitch the idea for this class to our library in hopes of getting other toy lovers to come join the fun" , she said.
"(It's) an hour of great 'show and story' and discussion about what was popular when and what other people like to collect," she added.
So what does she bring?
"I like not-so-common things," she said. "So I have a Spiderman who turns into a spider, a few 'different' Barbies and GI Joes. Plus, I'm a Halloween fan and I love spooky stuff. So those would be toys I wouldn't show maybe not to small children, like monsters, Spawns and toys withdrawn from the market for various reasons.
As a self-proclaimed Harry Potter fan, she said: "There are some things you can't buy or find, so I made a few accessories like a baby Mandrake and a garden gnome, to name a few. only a few."
She also has her own favorite toy.
"So for the record," she said, "that would be my Boglins puppets from 1987, reissued in 2000, and now again in 2021-22. I have a nice variety that I will be showing the class in the 80s/90s toy class.
Like any good show, classes will end with something intended to please the crowd, she said.
"The piece de resistance toy, you'll know the hour is up when I show this piece off, it's the best of the series and generally a really cool toy," Adams said, noting an example of a monster action figure. presidential, a crypt. baby" and a few other things that are my best fun pieces."
For others, she is very suspicious.
"You will have to come to class if you want to see," she added.